Sam
Raimi's
EVIL Dead. 10 out of 10. This extremely low budget movie launched Sam
Raimi's
career and established his own unique style of camera work that made us fall in love with his earlier films. Crazy closeups---the forest is alive --camera chasing you style --that obviously influenced LOST --Island monster (until they turned it into digital smoke???)
Which reminded me that
Army Of Darkness 8 out of 10
was playing the next night at Edwards as a part of the Flashback movie series. Army of Darkness is all camp humor and fun --with some cheesy effects that really stood out again on the big screen
----But BRUCE CAMPBELL Rocks I could watch him kicking skeletons on sticks into pieces all day...
If I was ever lucky (lottery lucky ) to get the
Pineappleman
turned into a Movie --I always envisioned him as Bruce Campbell.
"
Give me some Sugar Baby
"
"
Ash
: Now listen up, you primitive screwheads. See this? This... is my boomstick! The 12-gauge double-barreled Remington. S-Mart's top of the line. You can find this in the sporting goods department. That's right, this sweet baby was made in Grand Rapids, Michigan. Retails for about $109.95. It's got a walnut stock, cobalt blue steel, and a hair trigger. That's right. Shop smart. Shop S-Mart. You *got* that?
So many cheesy classic lines
Sheila
: But what of all those sweet words you spoke in private?
Ash
: Oh that's just what we call pillow talk, baby, that's all.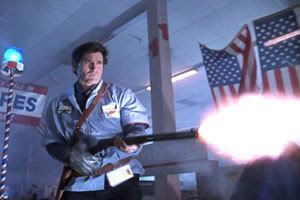 Ash
: [
to the Witch
] Yo, she-bitch! Let's go!
[
Upon getting the powered glove in place of his right hand
]
Ash
: Groovy.